PEOPLE SKILLS AND MANAGEMENT DEVELOPMENT
TEAM DEVELOPMENT
In today's ultra-competitive market place, it's true to say that people matter at least as much as product. Your customers don't just buy things, they buy things from you. You know you need to make sure your staff are all effective sales people, whatever their job role. Self-motivated, enthusiastic staff who are empowered to go the extra mile can make all the difference to your success. Getting them that way often includes a programme of staff development.
Let Clearer Thoughts help you add the "Wow!" factor by building a comprehensive management development and customer service package tailored to your company.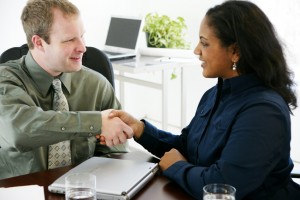 Choose from Clearer Thoughts' own courses or ILM modules.
People Skills Development
This group of programmes is designed to get the best out of your staff in the way in which they behave individually and interact with others. It includes a range of courses in Project Management; Customer Care; Communications; Meetings; Presentations, Report Writing; Assertiveness; Interviewing and many more.
To talk about how these programmes could benefit your organisation
CALL US NOW ON 07947 526345 or email Donna Stewart
Management Development
Many newly promoted first-line to middle managers need help and training to make the transition from being one of the team to being in charge. These programmes also appeal to those who have been managing instinctively, giving them the theoretical background that can support or extend their management style.
As well as maybe benefitting from the People Skills programmes outlined above, they can also learn about essential management skills; conducting meetings and appraisals effectively; carrying out a range of interviews; negotiation; delegation and coaching.
To download a summary of available programmes as a .pdf click the following link.
Summary of Management & Personal Development courses
TO FIND OUT MORE OR FOR INDIVIDUAL PROGRAMME OUTLINES
CALL US NOW ON 07947 526345or email Donna Stewart
ILM
The Institute of Leadership and Management (ILM) is a national body working towards establishing best practices throughout industry and commerce.  By enrolling your staff on our ILM programmes you can be sure that they will receive training and development which is suited to modern business.
At Clearer Thoughts we strongly believe that – as the ILM states:
"skilled managers and leaders hold the key to creating productive, engaged, high-performing workforces, which drive business and economic success. As Europe's foremost leadership and management body, the ILM's mission is to develop and support a community of managers and leaders, to help them fulfil their potential and raise standards of leadership everywhere.
We believe that, with the right training and development, everyone can be a better leader and manager. We believe in developing leaders at all levels in an organisation, from the ground up – after all, you probably already employ the best future leader of your company."
All Clearer Thoughts ILM programmes are a combination of theoretical knowledge gained through Guided Learning Hours – face to face or online tuition – and practical work-based skills. All ILM students are encouraged to bring real-life situations to their learning and their assignments may be work-based, leading to immediate benefits.
Clearer Thoughts offer the following ILM courses: